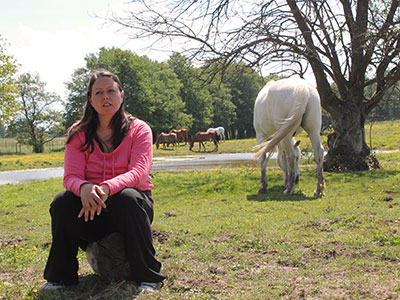 Largest resource of a company is its people. If you want to develop your business, it is always profitable to invest in employee development and wellbeing.
We at MiMer Centre offer Equine Assisted Learning (EAL) -workshops with different objectives.
Working life, like life in general, requires us to constantly adapt to new situations, relationships, and groups. Today, more than ever, there is a constant need for learning and growing.
What needs and opportunities for learning do you have in your organization? What are the goals you are working towards? We can offer you tools to simplify the development and strengthen the whole process.
At MiMer Centre, we coach with the help of horses, using experiential (experience-based) learning, where learning takes place by taking an active part of the learning or by forming an understanding of what you perceive and experience. The experiences form the basis of reflection and concrete action plans.
You and/or your team will meet our horses and other animals out in nature. The activities do not involve riding –and previous experience with horses or other animals is not necessary.
During the day, you and/or your team will be facing different challenges and situations. You will have the opportunity to try different strategies and solutions to problems that emerge in situations with others when solving different tasks. The activities are tailored to the areas you want to work with and to the goals you have.
For example, your goals can be about team building, flexibility, better resource management, responsibility, creativity, leadership, or perhaps even more concrete goals such as increasing sales, taking better care of customers, or finding new roles in a changed organization.
Read more about Corporate Development programs here
Employee wellbeing and Stress Management with a Retreat
The pace of today's society is very high. Many live stressful lives and it can be difficult to find a balance where you feel that there is also time for the recovery that all of us need. You and/or your team can come to us to retreat, to learn to relax. During one or two (or more) days, you have the opportunity to unwind, find tools to relieve stress and find balance in your life.
A retreat, in the art of relaxing, offers a moment to be "here and now", and gives you and/or your team tools to prevent burn-out and other physical problems that arise from stress.
More information about Employee wellbeing and Stress Management here
Practical info
You are welcome to come for a full day (8 hours) or a half day (6 hours). You and your team can work a lot during that time. To gain the best results, a follow-up visit is recommended.
We can offer accommodation for smaller groups (up to about 20 people).
Accommodation is possible in our hostel or in one of our Mongolian yurts. Read more about the accommodation here: www.trollskogensvandrarhem.se
Contact us for a quote or if you would like to know more about how and what you get from us, Katarina Felicia Lundgren, This email address is being protected from spambots. You need JavaScript enabled to view it., +46 (0)46-532 43, +46 (0)768-95 98 68