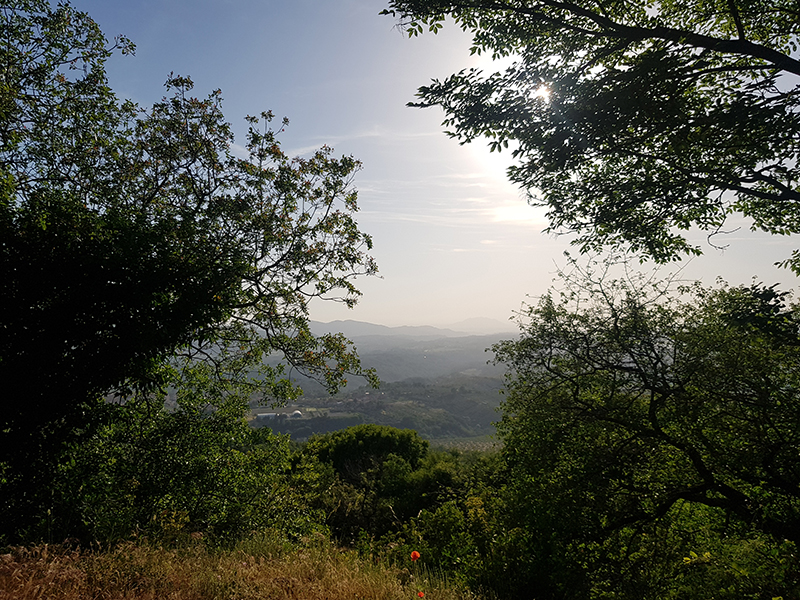 Join us in Italy for a Nature Assisted Mindfulness (NAM) and Rewild Your Heart (RYH) 4-day workshop, at the agriturismo, Nido del Falco, outside Poggio Moiano (approx. 1 hour drive from Rome) and in the Apennines.
We will spend 4 days nurturing our wilder, more feral sides. We will rewild ourselves, our Hearts, and practice "to see" with our WILD HEARTS what is around us in nature, through the concept of belonging to nature, not being outside of it, with the support of Nature Assisted Mindfulness.
Who is this workshop for?
This workshop is for anyone who wants to connect or re-connect with nature, to discover or re-discover how you are not only part of nature – but are nature.
It is especially for those of you who feel tired, perhaps weary, working within the helping/teaching/supporting professions – who need to re-charge, find new ways to rest in yourself and in nature. But anyone is welcome! Who wants to try out another way of practicing mindfulness and experiencing a Rewilding Your Heart weekend!
What is it about?
We will be doing Nature Assisted Mindfulness (NAM), observe nature, and ourselves in and around the vicinity of Nido del Falco, gradually we move further and further out into the wild and the last day of the workshop we will go off into the "wilder wild", meeting with a guide from Rewilding Apennines (a part of Rewilding Europe) to get closer to local wildlife, but we will also keep a look out for feral-living horses, to have a fully immersed "Rewild Your Heart" day.
We will spend a lot of time outdoors, engaged in different kinds of experiential learning and mindfulness activities, in more encultured settings as well as in more natural and wilder ones. To find and observe the local wildlife, horses and "ecology" at large, but also to observe and find ourselves. We will invite to reflections on what we can learn from observing feral and wild local wildlife and ourselves as being the observers, but also as being partners in mutual meetings, in nature, being nature.
We will reflect on how we are responsible for what we bring with us when we seek nature experiences, and also on what we leave behind us when we return back to our everyday lives. We will ask ourselves questions as; who are we when we "visit" nature? Who do we want to be when we "visit nature"? Can we even "visit" nature when we humans too are animals? Are nature?
Nature Assisted Mindfulness is a more embodied and emplaced mindfulness, a mindfulness based in experiential learning. From the first to the third day, we will go through different steps of NAM, leading us to better presence, and more attunement to ourselves as well as those and that around us. These steps are based on David Treleaven's program Trauma Sensitive Mindfulness + years of developing nature based and assisted grounding and mindfulness in Live the Change and MiMer Centre. The workshop is for anyone, including you who experience a very high level of stress or suffer from trauma consequences, as all that we do is both stress and trauma informed and sensitive.
To do Nature Assisted Mindfulness before we go out into the "wilder wild" will also help you to come closer to and be more synchronized with this experience. Nature Assisted Mindfulness can help us ground ourselves and open up our senses and to let our expectations of what we are going to experience fall away, as well as our judgments of it – to support ourselves to instead stay present with what the experience is offering us and how we can stay with ourselves and reflect on the experience instead of trying to change it.
In our reflections of our experiences of both mindfulness and nature assisted activities, we will also invite you to use expressive arts and creative writing.
Workshop dates 2023:
Worskhop 1: April 13-16 (Thursday afternoon, April 13 to the afternoon (4 PM) Sunday April 16.
Workshop 2: October 19-22 (Thursday afternoon, October 19 to the afternoon (4 PM) Sunday October 22.
Program Overview:
First workshop day: We meet at 3 PM and ends at 6 PM. This afternoon is focused on "The art of arriving" (contextualization & Emplacement), introductions to NAM and what we mean by "Rewilding Yourself, or "Rewilding your Heart", and overview of the program for all the days, as well as an introduction on a more thoeretical level on stress and trauma and how it can impact us.
Second workshop day: We meet at 9 AM at Nido del Falco and until 4 PM work with the 5 first steps that we borrow from our TS-EAM* program but have adapted to NAM: Mindful Gauges/Mindful Attention, Safety, Resilience, Inner Awareness and Self Compassion.
Third workshop day: Between 9 Am to 3 PM we work with the 5 last steps in our NAM process: Belonging, Presence, Attunement/Attachment and Integration/Bridging. This day we will take a step closer to the "wilderness" (around us and within us).
Forth workshop day: We will go into the "wilder wild" and meet up with a guide from Rewilding Europe. Well prepared from our previous days with NAM – You will learn about what Rewilding Apennines is about, interconnections in nature (predators and prey animals, humans in different social roles). You will observe and experience being part of the ecosystem by your own, you will be invited to reflect on what might unfold for you, being in the "wild" in correlation to your own growth edges and life challenges and apply what you have learned about yourself previous days. The time and location of this last day will be set closer to the date based on weather forecast and natural conditions.
Price:
Early bird price: 690 Euro (valid until March 15 for the April worskhop)
Regular price: 740 Euro
Deadline for signup for April's workshop - March 30.
Included in the price: All facilitation, education, and guiding. A pre-webinar with a Q & A, a suggested reading list, and a suggested packing list.
Not included in the price, transports, food, or accommodation. We are happy to give tips on accommodations and nice restaurants/grocery stores. And we suggest renting a car and car sharing.
Maximum numbers of participants is 12. The workshop will run with a minimum of 6 participants.
Faculty:
Facilitators in April:
Katarina Lundgren: Trauma Sensitive Mindfulness Instructor and Educator, Nature and Equine Assisted Interventions Facilitator and Educator, Cognitive Science Master's student and a student of Expressive Arts and Person-Centered Psychotherapy. Director of MiMer Centre.
Irina Dolmatova-Eggers: Organizational Transformation Specialist, Entrepreneur. Equine Human Development Facilitator (IFEEL method).. Director of Equilogy
Guide:
From Rewilding Apennines (https://rewilding-apennines.com/our-team/)
Languages: The main language on this workshop is English, but we can translate to Swedish, German, and Russian.
Sign-up here:
https://mimer-centre-school.teachable.com/p/nature-assisted-mindfulness-nam-rewild-your-heart-workshop-italy-april
"We do not need more science. We need a new mind-set and social movement that is transformational and centers on empathy, compassion, and being proactive. By rewilding our hearts, we focus on building strong and intimate connections with nature, and these experiences are essential for effective social change. This is deep work."
— Mark Bekoff
"There is a difference… between the call of the outdoors and the call of the wild."
— Kathleen Dean Moore
*TS-EAM – Trauma Sensitive Equine Assisted Mindfulness


A part of the incomiong funds will be donated to:
Rewilding Apennines: www.rewilding-apennines.com