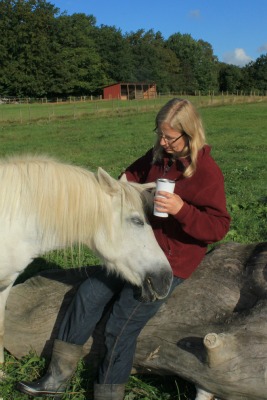 Have you experienced trauma of any kind and feel that you need more support than what you get? Come to one of our support groups where we will explore how we can make it easier to handle everyday life. Do you feel socially reserved? Difficult to get things done? Feeling alone? Having a difficult time fitting in? Fears that limit your life
We and the support group are here to support you. Maybe you are already in (trauma) therapy, waiting for therapy, or have completed a therapy? A support group is not replacing therapy but serves as a complementary- and supportive element in everyday life.
What do we do in a support group?
We meet once a week and go out to the horses in their pasture. Perhaps we have agreed on a particular topic we want to work on, or we do mindfulness exercises, grounding exercises, or other exercises that you can use in everyday life when/if you get anxiety, panic, flashbacks, nightmares, difficult memories (or memories from sounds, feelings, tastes or smells), etc. We simply work with what you need help with.
There is no horseback riding and you do not need to know anything about horses. It is also fine to be afraid of horses, you decide how close to the horses you want to be. The support group is not a course about horses and you do not need to learn anything about horses. You come here to learn more about yourself and to find tools to support yourself in your everyday life.
What we do is based on trauma-informed care, trauma-informed mindfulness, self-compassion and solid knowledge of trauma and its effects.
Our groups never have more than 8 people in them. Also, we have groups for women only. As soon as we have at least 5 people to one group, we can start. We are open all year round.
Who is the leader of the groups?
Katarina Lundgren, a cognitive scientist, certified Equine Professional (EP) in Equine Assisted Psychotherapy and a mindfulness instructor. I have many years of experience helping and supporting people. Also, 10 horses and a little mule belong to the team.
Where: MiMer Centre in Torna Hällestad (about 15 km east of Lund)
Price: 200: - / time, the price is for private individuals. Contact us for a quote if you want to take part in our support groups via municipality, county council or company/organization.
Contact us for a group that suits you. One session lasts between 1 and 1,5 hours.
Sign up to Katarina Lundgren, This email address is being protected from spambots. You need JavaScript enabled to view it., +46 (0)46-532 43, +46 (0)768-95 98 68