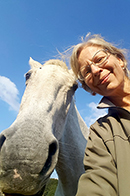 Katarina Felicia Lundgren BA, MS student
Katarina has a BA in Literature and Language and a second BA/S in the History of Ideas and Science from Lund University, which includes 1 year from the Swedish Agricultural University (including studies in entrepreneurship, horse management, and equine ethology), and is working on a Master in Cognitive Sciences at Lund University. Her passion is researching and spreading knowledge on equine cognition, equine-human interaction, and trauma, as well as offering treatment and support for traumatized people.
Katarina has spent almost 15 years as a livery yard manager and owner and operator for a small riding center and became interested in equine-assisted activities and therapies about seven years ago. Since then, she has offered various Equine Assisted Interventions. She has been trained in EAGALA and Learning Animals program Equine Cognition, and Human Development. She is also a certified Mindfulness Instructor.
In addition to working on her Master's degree at Lund University, Katarina offers Equine Assisted Learning as corporate trainings, Personal Development, and Mindfulness in individual sessions and group sessions, Trauma Support, and together with a psychologist, Equine Assisted Psychotherapy and Trauma Therapy. She also educates on equines, equine-human interaction and trauma-sensitive mindfulness, and trauma.
She is a co-founder and chair of the board in MiMer Trust. And works together with Ilka Parent from Minds-n-Motion, Germany, in organizing Minds-n-Motion "A Horse is a Horse, of Course" International Symposiums on Equine Welfare and Wellness and in putting together and publish the following compendiums.